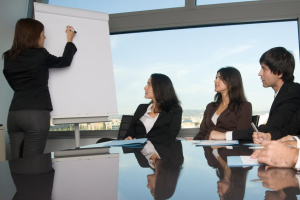 For managers we offer training programme "good to great", which focuses on the development of the managers' emotional intelligence and leadership performance. In addition we offer coaching targeted to the key personnel of the service industry. The training and coaching is conducted by Ester Eomois (Attached CV here), who has obtained a diploma in Academy of Executive Coaching program.
"Good to great" service manager's program focuses on two areas:
Development of managers' emotional intelligence. In this block the focus is on the manager's social skills:
how to communicate with the subordinates (supporting them in their development, listening, involving and developing and resolving conflicts);
how to deal with difficult situations and how to establish leadership.
All participants of the training course can complete the personal personality test (based on DISC methodology) and will receive personal feedback from the trainer. In addition, we give tips on how to resolve conflicts with people of different personality profiles.
Development of managers' leadership skills performance. The challenge in this block is improving the required leadership skills i.e.
forwarding and feedbacking of the essential information (including negative)
time management, prioritisation and delegation of tasks
team management (eg. during the changes)
supporting and training your own employees, how to improve service and sales.
All training course participants can complete the leadership competency test (popular methodology used in Finland) and rate their own leadership skills and obtain feedback from the trainer.
Coaching of the key personnel of the service industry
The main goal of the Coaching methodology is to improve employees' performance capacity and achieve more conscious goal oriented and effective performance in the B2B or B2C process. It is possible to support sales or service employees on the spot or by accompanying them on the visit. Personal feedback and instructions are given to both the participants and the direct managers. Sessions are interactive and are based on new "Coaching" GROW methodology
G – goal
R – reality
O – obstacles and options 
W – who, what, when and will