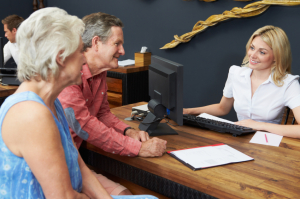 Mystery visits are the most popular form of mystery shopping. In this case, the mystery shopper visits the company's sales area or workplace posing as a regular client. He has been provided with detailed instructions on how to behave in certain situations and what to observe.
After the visit, the shopper will fill in an online questionnaire or write a summary in the form of an essay.
The evaluation of mystery visits will help your company to…
Observe the customer service process through the eyes of the client.
Get an objective overview of the strengths and weaknesses of the direct customer service.
Motivate your team and make the training of your team directed and purposeful.
Decrease customer complaints and increase the number of regulars.
The long-term and deliberate development of your customer service quality will help your company to also increase market share, revenue, profits and improve your reputation.
When conducting mystery visits, several aspects of the standard of service are under surveillance — first impressions; knowledge, sales skills and expertise of the employee; finishing the contact, etc. The specific aspects and criteria for evaluation will be determined in cooperation with the client prior to the surveys.