17. December 2015
Customer centricity is not just a buzzword but an attitude. It's an attitude that will bring your organization long-term monetary gains and increase your brand's value.
Your business exists to solve certain problems or fulfil certain needs. If you do not serve the needs of your customers, you can as well close your business. So in essence your customers run the show, bring you profits and pay the salaries. In return you must care about their problems and find new ways to make their lives easier.
When every process in your organization starts and ends with customer satisfaction in mind, you can call yourself customer centric.  If you are not sure how to build a customer centric culture in your business that would result in increased customer retention and monetary gains, we have put together some ideas that will help you.
Seek feedback
First step is to show genuine interest in finding out what your customers want and need. What they are satisfied with and what they are unsatisfied with and what could be done better. Ongoing research will help you understand how your business performs and what are the improvements you can make to win more customers. You will show your customers that you care about their opinion and at the same time your employees will get used to the customer-first mentality.
Make customer satisfaction as part of your values
Every company should have its core values in place and customer centricity should be one of them. One of the biggest online retailers Zappos says its first core value is to deliver WOW through service.
Setting your core values is not just a formality but shows your company's attitude towards customers and how your employees perceive customer satisfaction.  This means you need to address your core values to both external and internal customers – your customers, employees and vendors.
Company culture begins from the top which means as a business owner or department manager your words and actions also set the tone for your employees and how they pass it on to customers. So make sure your vision and company objectives emphasize customer service.
Create awareness and communicate
According to Forrester research for companies with customer centric culture the probability of selling to an existing customer is 60-70% and for new prospects it's 5-20%.
Make sure all your employees and partners are aware of the impact of customer satisfaction on your company's performance. You can use quotes, images or anything else that will daily remind your employees any anyone who comes to your office that customer satisfaction is in the top of your company's priority list.
Put customer satisfaction ahead of everything else
Make sure that you put your customer first and the other tasks and plans can be second. Show your employees how important it is to sometimes work an hour more if that will satisfy your customers. Give your employees the right authority to make decisions for your customers and ownership of their clients. Encourage your employees to make rational decisions when required.
A great example is the voucher website Cherry.ee and how they solved the problem of one of their clients. Here's the copy from Cherry's social media page posted by one of their clients:
"I'd like to thank Cherry. We ordered Sushi via Cherry from one of the restaurants listed on their site. We received a confirmation that we get the delivery by 19.00pm. Nothing was delivered and no one picked up the phone or answered emails at the restaurant. We were so embarrassed in front of our guests. Then I decided to contact Cherry but as they couldn't reach anyone at the Sushi restaurant as well, they personally delivered Sushi to our event from some other restaurant. They delivered it together with flowers and cake.
This really made our day and we were very happy. The other restaurant did finally deliver the food but it was 22.30pm and it didn't taste half as good. Our guests would have starved by the time. We would really like to thank Cherry for the amazing service and attitude."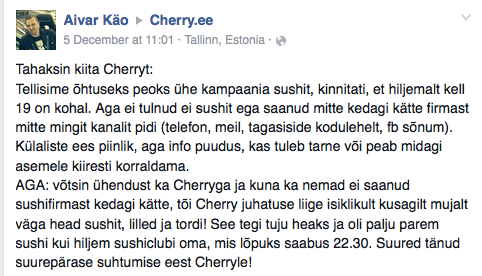 We can definitely say that this company has put customer satisfaction ahead of everything else. Customers do share great experience with others.
Reward and recognize

To have a customer centric culture in your organization, you need to have a motivated team that sees personal gains in customer satisfaction.
Reward the employees who go the extra mile in resolving customer problems. Link your employee growth and incentives with customer satisfaction. When employees have personal interests in customer satisfaction they are striving to please the customer and top performers are not determined only on the basis of sales numbers. Include service standards in job descriptions, employee evaluation and compensation.
Get everyone involved with customers

When you think customer service concerns only customer service department you are very wrong. Everyone in your company needs to get involved and understand what customers want. This also includes your development team, sales team and key decision makers in your business. What if you put some of the back office team members in the shoes of customer service representatives for one day a week.
Some companies ask their engineering teams regularly to do customer support to have a direct contact with customers and gather feedback for product. When middle and lower level employees see the top management also playing an active role in customer satisfaction, they will value this very highly.
Hire right people
Make sure you hire the right people and to create right expectations from the start. Anyone joining your company should understand the value of customer satisfaction and be ready to go an extra mile. The same way, you are much better off without employees who cannot value customers enough and do not appreciate doing their best to please customers.
Customer centricity has long-term monetary and branding benefits. Create an environment where every employee in your company understands the value of customer satisfaction and always puts customer first. It all starts from the founder of the company or team manager, maybe from you – the reader of this article.